Retail Promotions
NOOTERS CLUB® pet lover gifts will get attention at your store! NOOTERS CLUB® participates in a variety of retail promotions. See our t-shirts, sweatshirts, nightshirts, tote bags and more all promoting spay/neuter and responsible pet guardianship. Click here for our product catalog. Contact for wholesale and group discount pricing information.
All of our spay and neuter gifts are high quality cotton and poly/cotton blends priced to give you favorable margins. We are adding new products all the time!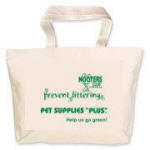 Consider NOOTERS CLUB® to reward and incentivize customers through a variety of retail promotions. NOOTERS CLUB® can help you reach out to new customers and build loyalty with old ones through fun and entertaining point-of-purchase signage, posters, and other items. We can also help you promote our products through local news releases and advertising, as well as website links. Click here for details on how NOOTERS CLUB® can provide promotional support to your store!
You can also customize NOOTERS CLUB® products by adding your logo or choosing from a large variety of custom colors.
Looking for a product that you don't see on listed in your information? Let us know your ideas. We would love to work with you!
Contact: NOOTERS CLUB®
or 248-253-0300
www.nootersclub.org