What's "NOO"?!
>> C-Snip joins our new ROOTERS program!
>> Coming in 2013:


Watch for event details!
Holiday special!
Free shipping offer! Through Dec 21 online shoppers get FREE SHIPPING on all orders of $25 (not including any applicable sales tax) or more. Orders must be shipped to a single address. Choose from all DOG, CAT and RABBIT designs!
All new orders will be shipped beginning Dec 2, 2013.
Sign up for our NOOZletter for deals!
What's NOOTERS CLUB®?

Promote pet spay/neuter through whimsical apparel & gifts.
Support rescues with part of proceeds.
Put pet owners in touch with affordable spay/neuter around the US.
Help rescues raise money.

Shop our awesome clothing & accessories!
Wear your NOOTERS® proudly and help us spread the word!
A part of proceeds from every sale benefits rescues!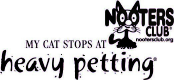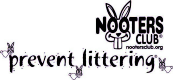 Raise Money with NOOTERS CLUB®!
NOOTER® is Cuter!

Spayed and neutered pets are healthier and live longer!
Find an affordable spay/neuter clinic in your area in our directory
. Follow us on
FaceBook
/
Twitter
for info on spay/neuter events around the U.S.